---
Do you want to know more about out models?
Write to us and we will inform you without obligation of all the transformation options and prices.
Close
Visit our showroom
Would you like a premium customised camper van? Visit our showroom and we can discuss everything we can do for you.
FURGOK® receives high praise in german industry press
For FURGOK®, 2023 has gotten off to a great start. We've received some outstanding news over the past few weeks, like the fact that one of our vehicles, the 600.44.1.F, was tested and recommended by two German industry publications: Pro Mobil and Camper Vans.
Quotes like "a newcomer from Spain challenges the bathroom concept of camper vans" and "the unusual idea of hiding the shower and toilet in a closet and turning it into a bathroom on demand has been well implemented by FURGOK®" confirm that our commitment to the patented Dynamic Space by FURGOK® technology goes a long way in creating an active interior space that is agile and can be transformed to adapt to every situation.
Thanks for the confidence in our product and the positive review.
---
"The well-thought-out bathroom is superbly finished, providing individual applications with above-average space"
Pro Mobil, Germany
+ Features
At FURGOK®, comfort runs deep – the reason we first opened our doors was to create comfortable, top-end travel experiences on wheels.
+

info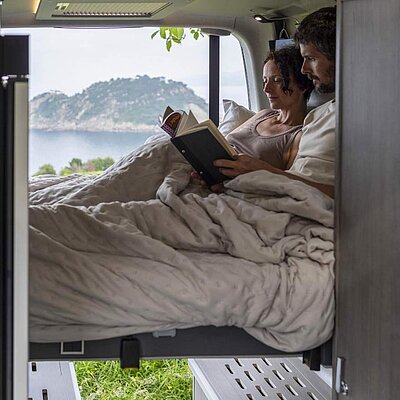 ELECTRIC BED
Make the most of the space in the back. Sleep at the height you want and enjoy a flexible pass-through and loading area, which you can configure to meet your needs.
EXTRA-LARGE SHOWER TRAY
The 60 x 90 cm single-piece shower tray is designed to make you feel at home wherever you are.
ELECTRIC CHEMICAL TOILET
The chemical toilet is ready to use at the push of a button. We offer unrivalled space, the kind of bathroom you can read the newspaper in.
PRIVACY BLIND
Designed to provide extra privacy, this blind separates the bedroom and bathroom. It can easily and quickly be extended and retracted for instant privacy.
SINGLE-PIECE WASHBASIN
The fold-out single-piece sink offers the ultimate comfort for washing up.
Our vehicles are equipped with a table and two folding chairs, which can be used inside and outside. The chairs are built into the rear doors of the vehicle, and the table is concealed in the sliding door.
+

info