---
Do you want to know more about out models?
Write to us and we will inform you without obligation of all the transformation options and prices.
Close
Visit our showroom
Would you like a premium customised camper van? Visit our showroom and we can discuss everything we can do for you.
NEW NAMES FOR OUR GRAN CAMPER VEHICLES
We're excited to announce the new names we'll be using to group our models. From now on, you'll find our vehicles classified into two different families: KOMPAKT and XPACE.
---
Our vehicles will now be grouped into two families, all with very different characteristics and several versions of each.
FURGOK® KOMPAKT is our most compact vehicle, a 500 cm long two-seater on a Fiat® chassis with maximum use of space.
With seven different versions, our FURGOK® XPACE has seating for three to four people, lengths ranging from 540 cm to 600 cm and heights from 265 cm to 290 cm, on either a Fiat® or Volkswagen® chassis.

---
We also wanted to celebrate our roots with this new classification by placing special focus on K and X, two letters that are used a lot in Basque, the company's local language.
+ Features
At FURGOK®, comfort runs deep – the reason we first opened our doors was to create comfortable, top-end travel experiences on wheels.
+

info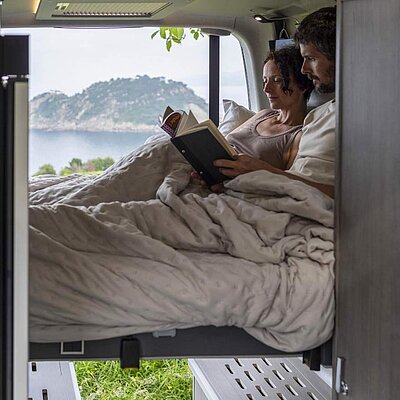 ELECTRIC BED
Make the most of the space in the back. Sleep at the height you want and enjoy a flexible pass-through and loading area, which you can configure to meet your needs.
EXTRA-LARGE SHOWER TRAY
The 60 x 90 cm single-piece shower tray is designed to make you feel at home wherever you are.
ELECTRIC CHEMICAL TOILET
The chemical toilet is ready to use at the push of a button. We offer unrivalled space, the kind of bathroom you can read the newspaper in.
PRIVACY BLIND
Designed to provide extra privacy, this blind separates the bedroom and bathroom. It can easily and quickly be extended and retracted for instant privacy.
SINGLE-PIECE WASHBASIN
The fold-out single-piece sink offers the ultimate comfort for washing up.
Our vehicles are equipped with a table and two folding chairs, which can be used inside and outside. The chairs are built into the rear doors of the vehicle, and the table is concealed in the sliding door.
+

info